Singapore can be an expensive place to live. That's why Sherry Ann Sabado, 42, a Senior Procurement Manager from the Philippines, had always chosen to live with her friends to share the cost. She has been sharing apartments with friends since she moved here 15 years ago. From 2011 to 2018, she and her best friend lived together in a 5-room HDB apartment in the HarbourFront area. 
That all changed when her friend told her she wanted to move out. She shares, "That made me panic and got me thinking about whether I could afford a place on my own. On top of that, as a permanent resident, I wondered whether I could even own property." After assessing her situation, Sherry realised that for now, she could only afford a place to rent, not buy.
This was where PropertyGuru search and filter came in handy for Sherry. "I had to stick to a certain budget," she explains. Besides the price concerns, she had several criteria to fill, including a one-bedroom living space, either in a condominium or shophouse, a balcony, and an oven. With PropertyGuru, she found and viewed two condominiums along Steven's Road before deciding on her current living space, a shophouse.
"Condominiums I viewed were smaller and I felt that they lacked character. When I saw this shophouse apartment, I knew immediately this is the apartment for me," recalls Sherry. From then, all the arrangements were settled in less than two weeks.
Initially, Sherry was uncertain as she is a single lady who lives alone, and the apartment is located right beside a main road. However, considering how safe Singapore is generally, she is less concerned now. "Singapore has a low crime rate, so the worry fades away sooner or later," she says.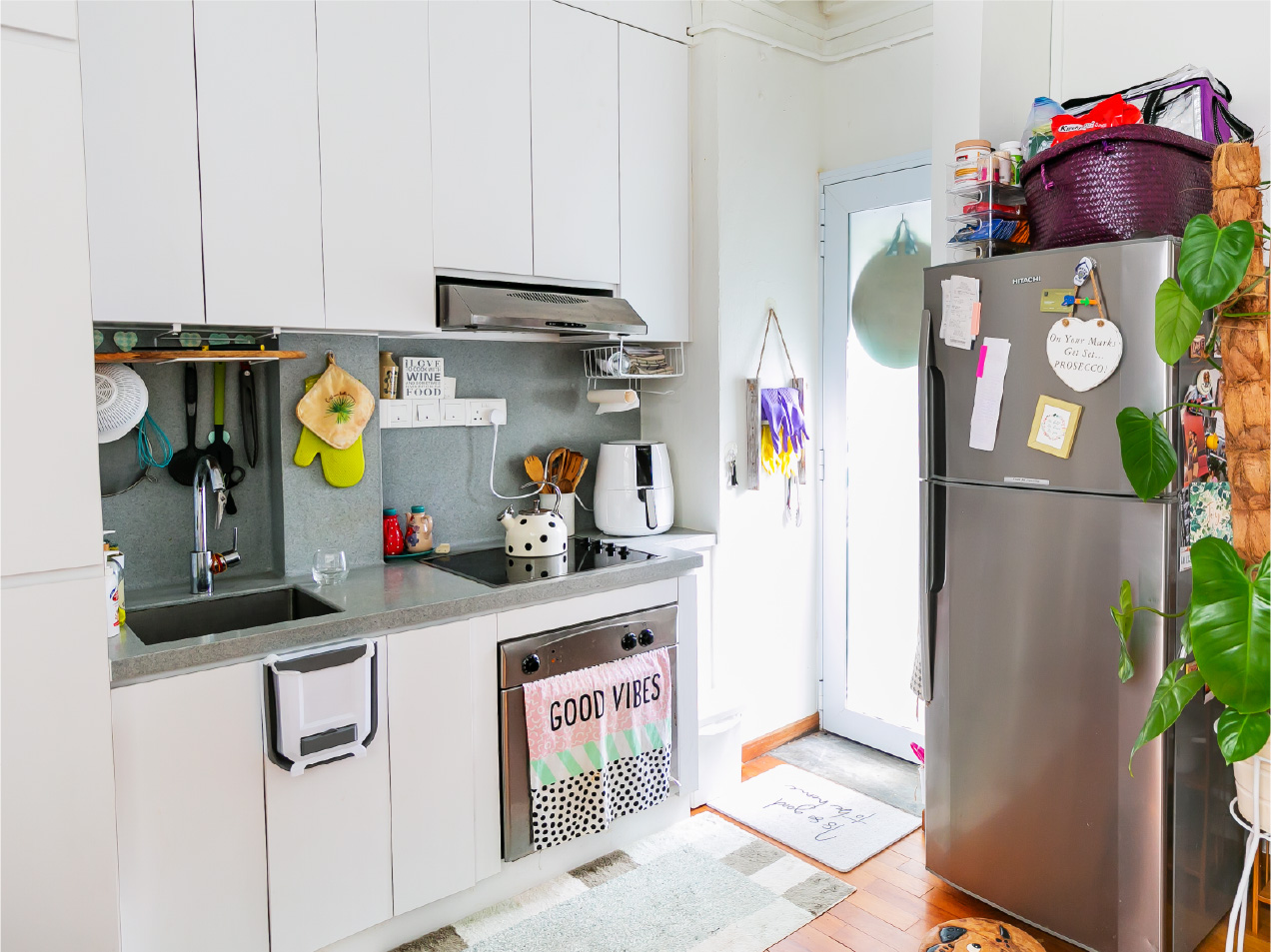 An Urban Jungle Living Space
The place she found doesn't have a balcony, but it has something much more unusual for a Singapore apartment — a courtyard. It is located on the ground floor of a shophouse in Zion Road, and the courtyard extends to her landlady's office.
When she first entered the space, Sherry thought it was empty and bland. She immediately had the vision to add plants and greeneries to the surroundings and even inside the house itself, "I love gardening and have always been interested in plants," she says.
"Last time I counted, I had more than 70 species thriving here. I've made my house an urban jungle," she remarks proudly. This includes a variety of herbs and plants, ranging from tomatoes and mint to rosemary and monstera. Often, people would stop by her front door to take pictures. "It's quite Instagrammable!" she says.
But things weren't always that rosy. In the beginning, strangers were stealing her beloved plants: "One by one, someone would just pick it up and take one pot, two pots."
Sherry was disappointed, but now the community is giving back. Anonymous do-gooders have begun gifting her greenery. "I own pots and plants from people I don't know; they just left it there on my front door." With all the plants and flowers hanging around, her landlady is happy with how Sherry decorated her apartment and enjoys looking at it from her office window.
Regarding her next planting adventure, Sherry is planning to add more vegetables like cucumber and passion fruit.
A Knack for Organising Leads to a Side Hustle
Within her urban jungle, Sherry keeps everything neat and tidy. "My friends and relatives always compliment me on how organised my apartment looks". And when her sister gave birth to twins, Sherry helped her sister in cleaning, organising, and tidying up the house. Impressed, her sister asked whether such organising services exist in Singapore. After searching, Sherry realised there were only a few businesses in this sector, so she decided to give it a go.
Named Sought After Homes, she currently has two clients. "I only do this as a hobby — on the side, after work or on the weekends". Although she only has two clients, they've become great friends. "When you visit someone's house, there's a level of intimacy, not only on a professional level but personal as well." 
As for now, Sherry's satisfied with the Amazonian apartment and the side business she created. She'll not be moving anytime soon. "I just recently renewed my lease, so unless there's a partner on the horizon, I'll not be changing my arrangements," she laughs.
Source: https://www.propertyguru.com.sg/property-guides/jungalow-shophouse-zion-road-sherry-ann-46120?utm_source=cmt_braze&utm_medium=edm&utm_campaign=sg-pg-consumer-newsletter-nlcc-enga-edm-cmt-20210507&utm_content=active—article4-title